About Us
Furniture are not simply a group of essential wares bound to serve household duties like storage and comfort media for its occupants, but have far transcended their purpose to become an integral part of the aesthetics and visage of a living space. To further embellish your homes and add to their appeal,
Shri R. B. Export
offers an outstanding range of furniture whose marvelous design elements, their understated styling and exceptional build quality are markers of their craftsmanship.
Since the inception of our company in
2013
, we made a name for ourselves not only in our domestic market, but also a number of overseas destinations too such as
United Kingdom, USA and France
,wherein our export offerings are held in high regard experience considerable demand. Backed by posse of qualified designers and expert marketing personnel, we have established ourselves as a noted
Manufacturer and Exporter
of products such as
Handicraft Furniture, Aviator Furniture, Dressing Tables
and
Beds
to name a few.
What Do We Offer ?
We offer a diverse portfolio of furniture whose stellar design and unrivaled build quality are no less than exemplary and a personification of class and elegance. Following is the range of products we deal in:
Handicraft Furniture
Aviator Furniture
Airman Furniture
Dining Tables
Almira
Bed
Chair
Cupboard
Dressing Table
Trolly
Aesthetics and Furniture : An Everlasting Bond
No interior space is deemed complete without furniture and when it comes to providing them a character, hand crafted ones are the most obvious choice to accomplish the same. Is it not a striking sight and a source of keen enthusiasm when we gaze upon royal paintings only to make a note on the
attention to detail
on the material aspects such as furniture and other paraphernalia, which gives us a clear insight into the tastes of those folks.
Well, the gist is that we have always been fascinated by articles or wares that are
ornately decorated
and have been polished accordingly to make them stand out from the rest without compromising their utility.
Shri R. B. Export
has all such cravings of the art loving and aesthetic aficionados covered through its
highly revered
and
supreme grade furniture
and home furnishing essentials whose
design is a fusion of arts and modern elements.
The
raw appeal
and
cosmopolitan visage
that a well curated and artistically refined furniture like a dining table provides cannot be compared to other decor elements, thanks to their underlying purpose whose practical realization serves as an added satisfaction.
So, wait no more and add that
elegance and charisma
to your home you have always longed for and let your guests be in awe of the
magnetism and class that your living space
and make them a fan of yours.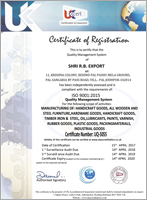 Read More